A unique opportunity to take part in a weekend of instrument making in the amazing setting of the Ancient Technology Centre.

What will we Make?

A 15 inch diameter Shamanic style drum, with deerskin or reindeer skin head and cedar hoop. We will cut the head and the lacing and lace the drum on the pre made hoop. We'll also learn about the tanning process with a chance to try scraping a raw hide. The goal will be to learn how to go from dead animal to clean drum head, and how to lace a variety of lacing patterns.

We will also make a beater for our drum from buckskin.

A bone flute, from goat, sheep or deer bone depending on availablity. We'll either make a fipple type flute (like a recorder) with a beeswax block, or an edge blown flute (like a quena), depending on time and how confident people are feeling. We'll start with a bone straight from the animal, learn how to clean it and prepare it, bleach it clean and then make it into a flute.

A Blowing Horn, made from a cow horn.

A rattle, made from the same rawhide as our drum, where possible.

If time allows, we will also make a mouthbow, hazelnut whistle and river cane reedpipe.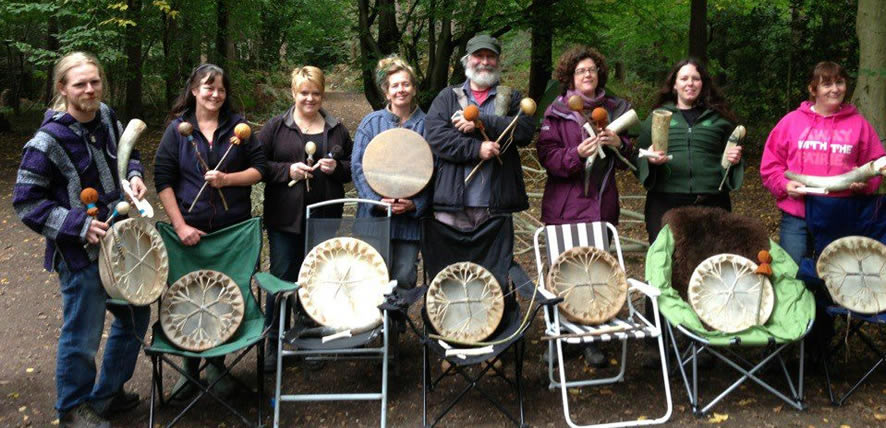 The participants at our last instrument making weekend.


Practicalities:

The weekend workshop will be held at the Ancient Technology Centre, Cranborne, East Dorset. Their website can be found here.

We will begin at 7pm Friday and continue until 3 pm Sunday approximately. Meals will be provided, though we will ask you to bring some food to share. Tea and coffee will be provided. There is camping accommodation in the Viking Longhouse. You will need to bring bedding or a sleeping bag.

The ATC is easily accessable by car, or we can pick people up from Ringwood or Salisbury if you wish to come by public transport.

Tickets.

Tickets for the weekend workshop are £220 each which includes accommodation, meals, all raw materials and instruction.
We will hold a place for you on receipt of an £80 deposit. This deposit covers the cost of purchasing and preparing the raw materials. The balance of payment must be made at least a two weeks before the date of the workshop, either by cheque or Paypal (we will send you a Paypal invoice by email for the balance).
You can pay either the full fee or the deposit using the Paypal buttons below.
If you decide to pay by cheque please email us before you send it so we can hold a place for you. If you have any problems with the Paypal button please contact us.

Once you have booked we will send you more information about the site and what to bring.

Please note places are very limited so book early to avoid being disappointed.