Welcome to the East Dorset Moot website.
This new moot meets at the Green Man, Wimborne, at 8pm on the third Wednesday of each month. CLICK HERE for more info about the venue, and directions to find it.
The moot is hosted by Paul. He looks like this: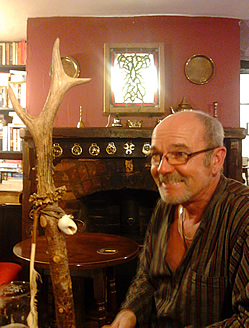 We are easy to find in the pub because of that big antler topped talking stick that sits on the table.
Here are the details for the next few Moots:
| | |
| --- | --- |
| 21st November | normal pub moot, Talking Stick round table discussion |
| 17th October 2012 | normal pub moot, Talking Stick round table discussion |
| 19th September 2012 | normal pub moot, Talking Stick round table discussion |
| 15th August 2012 | Picnic at Knowlton Rings, near Wimborne. Meet 7pm at Knowlton Rings. we will adjourn to the Horton Inn afterwards. Please bring food to share. In the event of dodgy weather phone or text Paul for updates. |
If you have any questions please contact Paul at paul@eastdorsetmoot.co.uk
or phone 07587 062233