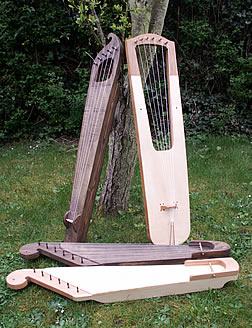 Ancient Instruments
We make a variety of musical instruments, specialising in instruments current in Northern Europe before around 1050 AD. As well as reproductions, we make contemporary versions of these instruments, improved and adapted for the musicians of today.
Kate and I are fascinated with the musical culture of ancient Northern Europe before roughly 1050 AD, and some of its instruments, including the Blowing Horn (cow horn trumpet), Bone Flute, Bowed Lyre (Jouhikko, Talharpa, Gue), the Kantele, the Willow Flute, Reedpipes, Viking Style Panpipes and of course the six stringed Lyre.
Initially we made these ancient instruments for our own performances, but soon other musicians asked us to make instruments for them, and soon it became a full time occupation! Rest assured that if you order an instrument from us it has been designed by musicians for musicians, with the emphasis on playability, sound quality at a fair price. We make these instruments because they deserve to be played, they are part of our heritage, the musical tools of our Ancestors. I also hope to counter the lack of information that leads to music being such an under represented part of Dark Ages re-enactment, and to dispel the myth that 'nothing is known' about the musical culture of our distant past. Lets bring ancient Viking Music, Celtic Music and Saxon Music back to life in our living history displays!
Follow the links on the left to go to the instrument pages. You can also see more photos on our Facebook Gallery .
First off look at our Etsy shop, we are building up stock over the next few weeks and what you are looking for may be available to buy from there. If what you want isn't there, then contact us and we'll notify you once that item comes back into stock.